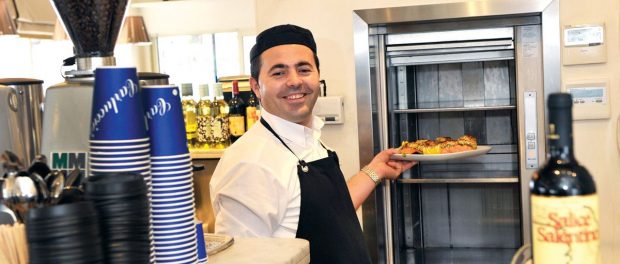 Stannah, the UK's largest independent lift manufacturer has called on hospitality and retail businesses to carry out essential safety checks on passenger lifts, platform lifts and microlifts ahead of the sector reopening. Non-essential retail businesses and outdoor hospitality venues start to reopen in April, and hotels, restaurants, pubs and coffee shops have a government roadmap to safely accommodate customers indoors within the following two months.
For these businesses, remembering to meet the obligations for any operating lifts in place, as required by the Health and Safety Executive, is crucial.
"Don't get caught out or risk a further delay to your opening due to the legal responsibilities you have for your onsite lifts," says Alastair Stannah, MD of Stannah Lifts Distribution and Service. "Lifts must be thoroughly examined and safe for everyone to use. The duty holder is accountable for the safe operation of any lift in your premises and should familiarise themselves with what they are accountable for."
Hospitality and retail premises should ensure their service contracts are valid and the lift company is still operating, that all lift paperwork is up to date and that their LOLER (The Lifting Operations and Lifting Equipment Regulations 1998) inspection visits are up to date.
Where lifts have been kept on but not used regularly, they should be tested thoroughly, but if they have been switched off, it is essential to speak to your service provider first.
Additionally, while businesses are preparing for reopening, it could be an opportune moment to review the layout and configuration of the premises in question. Whether opening an upstairs or downstairs space or changing layouts to make social distancing easier, now is the ideal time to consider undertaking any building work that can support an increase in revenue.
Alastair Stannah, MD of Stannah Lifts Distribution and Service, said: "Reorganising premises to become Covid-19 secure can feel like a big challenge, but it doesn't have to be. Stannah Microlifts come in a range of dumbwaiter sizes, which can fit into very small spaces and can transport plates, glasses, food and more quickly between the kitchen, restaurant and additional floors."
"As there is a small amount of builder's work required, installing a service lift could disrupt your business if open. As you prepare to open, now is an ideal time to install before lockdown lifts, giving the long-term benefits of reducing manual handling risks, and reducing handling and serving time."
Stannah has installed over 22,000 dumbwaiters in the UK and can support any premises configurations needed, enabling businesses to maximise the space they have available. The first step is to arrange a site survey to discuss possible locations and sizes.
For a full reopening lift safety checklist, please visit our Retail & Hospitality Reopening Guide.