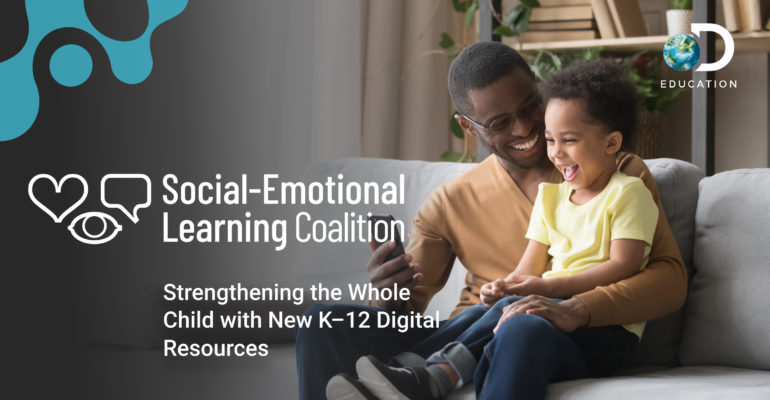 Explore a variety of  K-12 resources and curated content collections in the Social-Emotional Learning Center, designed to keep social-emotional connection at the heart of every learning experience. 
Social-Emotional Learning (SEL) is such an important area of focus in education because of its unique power to enhance all other subject areas indirectly. By better understanding and managing emotions, both educators and students are more engaged in the process of learning. 
Being centered in our emotions is necessary for us to truly listen to others and effectively express ourselves. By integrating social-emotional competencies into core curriculum, educators are helping students become better learners and better people. 
Discovery Education's no-cost, transdisciplinary SEL resources help anchor classrooms in empathy while enabling students to set and achieve positive goals, establish and maintain positive relationships, and make responsible decisions. 
Flexible Instructional Resources & Professional Learning 
Bring everyday SEL skills to life for K-5 students with fun, hands-on 

Soar with Wings

 resources for in school or at home. Educators can access a series of professional learning videos offering tools and strategies for incorporating SEL into lessons.

 

Empower elementary students to be confident inside and out with 

Amazing Me

 classroom and family resources focused on building self-esteem, promoting positive body image, and countering bullying. These evidence-based resources help connect on SEL and health to body confidence.

 

Help boost teacher performance and student outcomes by cultivating trauma-informed education in schools. 

Ready, Set, RISE!

 e-Learning modules help educators plan, implement, and sustain collective care and wellbeing at school utilizing trauma-informed teaching methods.

 
Give students the power to control their own emotional state using the 

Six Sustainable Happiness Skills

. Visit 

Discover Your Happy

 to explore science-based resources that encourage educators, students, and families to harness the benefits of sustainable happiness.

 

Students today can discover powerful lessons about social-emotional resilience through a knowledge of history. Discover the testimonies of witnesses and survivors of genocide available at 

Teaching with Testimony

, along with standards-aligned instructional tools that help put empathy into action.

 
The recently launched SEL Center offers a curated collection of hundreds of resources designed to help educators integrate SEL into core instruction, and to help all students develop social and emotional competencies. A partnership between Discovery Education and likeminded leaders across the public, private, and philanthropic sectors, the SEL Center is available to DE users as well through a no-cost public-access site. 
Looking for a fun way to spotlight SEL this summer? Celebrate International Friendship Day on July 30 with the help of no-cost SEL resources from Discovery Education!