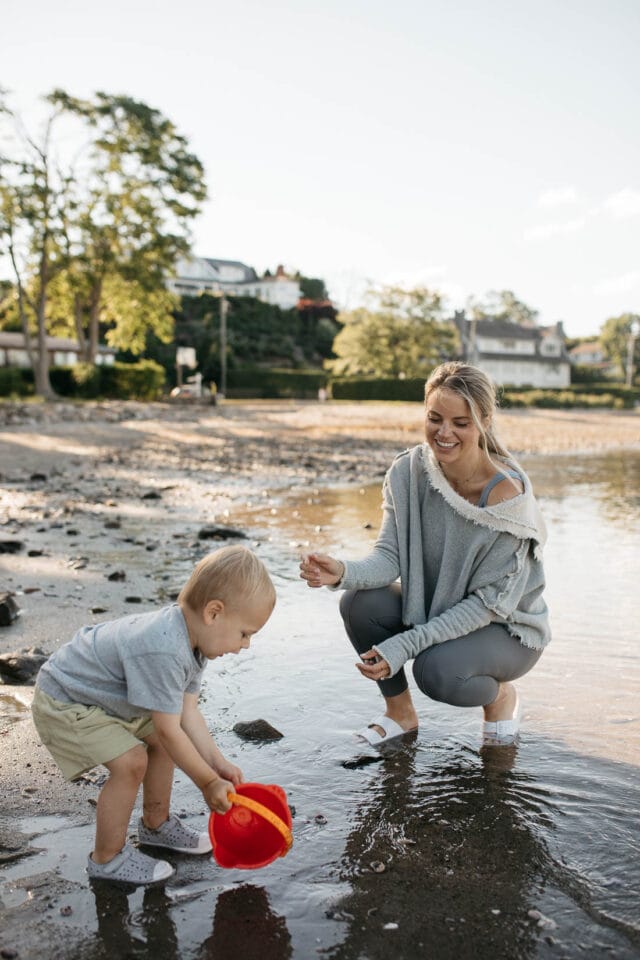 Ever since moving to CT, Matt and I wanted to make a point to soak up and enjoy as much of the outdoor benefits of living here as possible. Whether it is a post dinner stroll or a picnic at the beach "after hours" it has been so much fun changing up our nightly routine with Logan. He truly has become a little beach babe and heading to the beach for a pre-bath dip has been one of our favorite moments.
The water is calm and beaches are empty. The water in this particular area is shallow which allows us to splash around all day because it is so warm. My typical attire is leggings, a tank (26 colors, mine is heather grey) and a sweatshirt for when it begins to cool. I have been picking up a lot of pieces from Free People Movement as I love their selection and everything seems to work well with a bump. These leggings in particular are buttery soft and high waisted which I prefer. They lay right on top of my bump without digging in (wearing my normal size small) and come in 6 colors (mine are oyster).
This night in particular there were two golden retrievers that came out to play and go for a swim. Logan had so much fun watching them, as Hadley is not quite a water dog. He thought them swimming was the funniest thing. We also love to collect shells in his bucket and some of the bigger ones we will then color when we get home. Making special memories like these have been what summer is all about. There is a little snack shop nearby as well that we often will grab a special treat at before heading home.
Tank (26 colors, mine is heather grey – wearing a small) // Hot Shot Crop (little support fyi, 15 colors – mine is stormy sea) // Leggings (6 colors – mine are oyster – wearing small) // Free Spirit Hoodie (6 colors – wearing xs)
A big thanks to Free People for partnering on this post!