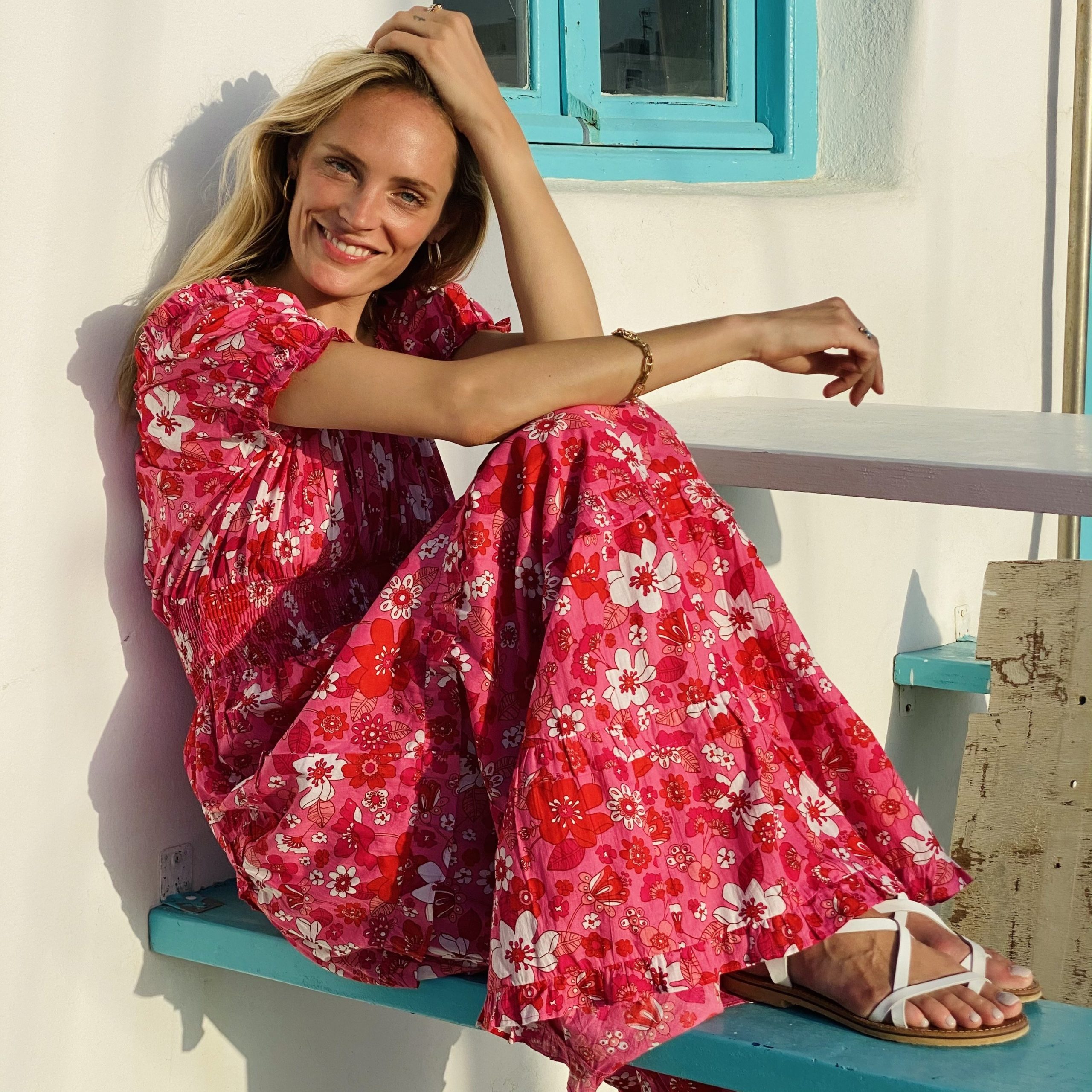 If you're looking for some 'holiday at home' inspiration, click on over to Pink City Prints. The slow fashion brand specialising in beautiful, hand-printed dresses in natural fabrics is guaranteed to make you feel good. Founder and Glasgow School of Art graduate, Molly Russell created the label whilst visiting 'The Pink City', Jaipur, India, six years ago, 'I felt so inspired by the joy and magic of traditional craft techniques passed down through generations,' Molly tells me, 'Watching these artisans at work was an incredible privilege. Their skills take years to master and help bring a garment to life  – but they were under threat from mass production.' Wanting to do something about it, she bought fabric in local shops, designed a small collection, practically on the spot, and two months later the Pink City Prints arrived in London; to be immediately snapped up by friends and family.
Wanting  to celebrate the talent she'd seen in Jaipur, Molly saved up the money to return and began working with local block printers and embroiderers,  'I had no fashion experience,' she admits, ' so learnt on the job, making mistakes as I went.'
On the Pink City Prints' website, customers can shop by the different techniques, such as: block printing, hand looming and hand embroidery. ' An embroidered dress can take up to three days to complete,' continues Russell, 'Block printing is a little quicker, but this can only be completed during certain times of the year due to weather conditions. Hand looming is an extensive process, it takes the weaver up to two days on a wooden loom, which requires great patience. Each different technique takes years to master, and requires high levels of skill and concentration.'
'We're committed to supporting the artisans responsible for making our pieces,' adds Russell, 'As we've got to know our makers first-hand and built relationships with them, we've realised even more how important it is to treat everyone in the supply chain with respect. Working days are eight hours long with regular breaks, holidays given and salaries are at least double minimum wage and each workshop has been vetted.'
Like so many other small businesses, Pink City Prints has had to deal with the effects of the global pandemic, and the disruption to production. 'The safety of our colleagues in India is obviously our priority. Production has had to slow down or stop at various times, and we've had to adapt to new working conditions and guidelines. As the Delta variant took hold in India we set up sample sales and fundraisers to support charities working on Covid relief.'
Looking forward, Russell hopes to find more artisans across the world and to continue to expand Pink City Prints. She's recently travelled to in Mexico and would love to bring even more colour, creativity and fun to her future collections. ' I like to know where my clothes come from – wearing a dress that brings sunshine and light and connects you to the incredible craftspeople who made it, can't help but put you in a good mood.'
Find out more at Pink City Prints.