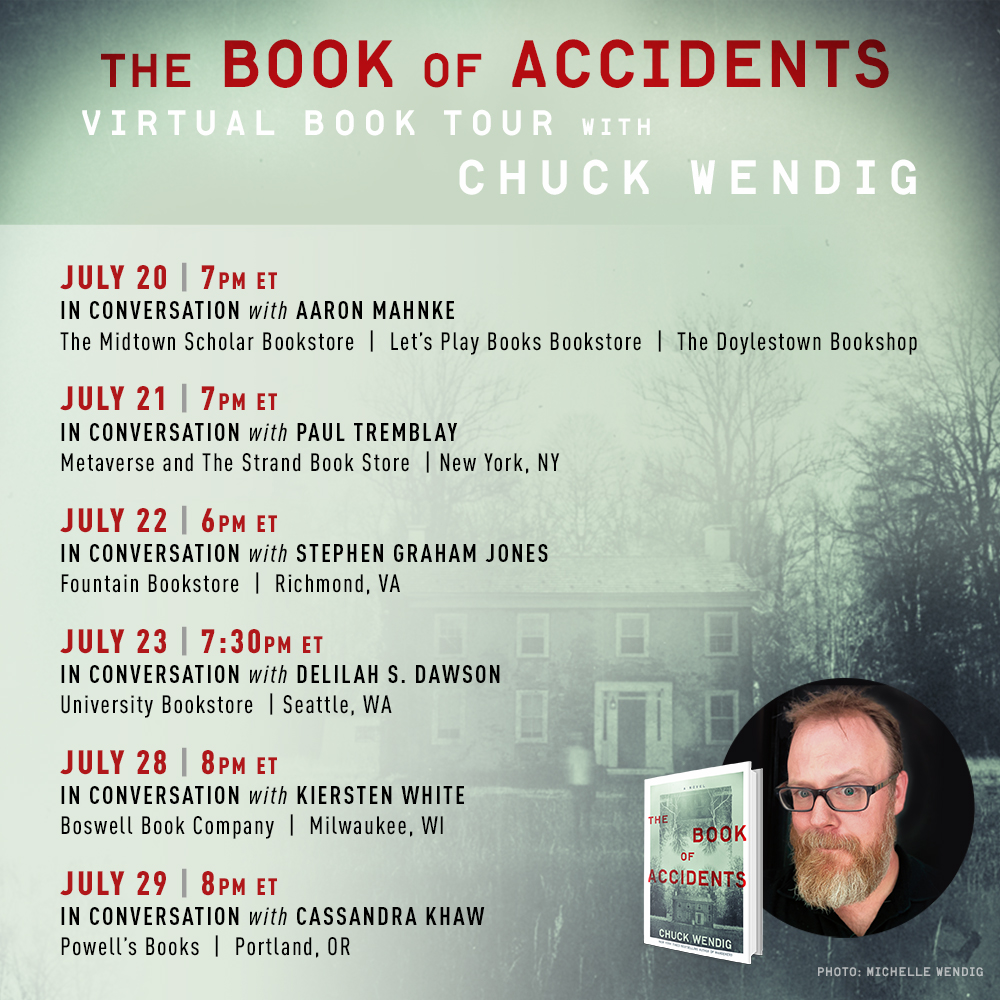 So, The Book of Accidents is out on July 20th — holy crap, one month away?! — and I will be appearing at various bookstores in support of it! The trick is, like most authors during the Quarantimes, I'll be appearing at these bookstores from the comfort of my own li'l writing shed, rising as a virtual ghost, a veritable digital specter, crawling into your internet to talk about books and horror and birds and apples. It'll be great! And you don't even have to leave your house. And why would you want to leave your house? THE WORLD IS A HUNGRY MOUTH. Safer instead to come meet me on the plains of 1s and 0s, yes? Yes.
The especially cool news is, I'll be appearing at these bookstores with a handful of very wonderful authors, truly some of my favorite writers and people, so I expect that the ensuing conversations will be a gosh-dang monkey-fridgin' delight.
Here is that schedule (also viewable in the above graphic) —
July 20th, 7pm EST, in conversation with Aaron Mahnke, as part of a joint bookstore event between three PA bookstores: The Doylestown Bookshop, Let's Play Books, and the Midtown Scholar. (If you want signed, personalized books, then buy from one of these stores, if you please.) Register for that event here.
July 21st, 7pm EST, chatting with Paul Tremblay for The Strand / Metaverse NYCC, NYC. Register for that event here.
July 22nd, 6pm EST, conversing with Stephen Graham Jones for The Fountain Bookstore, in Richmond, VA. Register for that event here.
July 23rd, 7:30pm EST, hanging out with Delilah S. Dawson for the University Bookstore, in Seattle, WA. Details here.
July 28th, 8PM EST, visiting with Kiersten White for Boswell Book Company in Milwaukee, WI. Register for the event here.
And finally, July 29th, it's me and Cassandra Khaw, chatting at Powell's Books in Portland, OR. Register here.
Obviously, I ask that if you partake in an event, you try to buy a book from the hosting bookstore! (They should all have signed copies available, with a number of signed bookplates at each.) They are kind enough to run these and provide the infrastructure and the support, and of course bookstores are a mighty wonderful part of the BOOK ECOSYSTEM. If you like books and authors and stories, then supporting an independent bookstore is an essential component. I also hope you'll consider buying the books of the conversing authors, all of whom are amazing goddamn authors and whose books demand your eyeballs. You will be rewarded with excellence.
And most of them will ship books right to you.
As to whether or not I'll be doing any in-person events, it's not likely for this specific release window, given that things are still up in the air — lots of airline cancellations, plus the rise of the delta variant, plus the differences in COVID numbers and protocol state to state, makes that tricky. But, I'm not averse to doing an in-person event at some point soon, either, because I am a vaccinated human* who is happy to meet other vaccinated humans! If I have such an event where we may orbit one another's flesh sacks in three-dimensional space, I will surely put it here on this blog. So I remind folks that subscribing is always a good idea, if you've not done that.
I'm also doing a virtual chat at the Jacksonville Public Library this week — 6/23. You can find details for that event here.
Hope you'll check out the book! If you don't, I die!
MORE AS I KNOW IT.
*sack of wizard-cursed apples