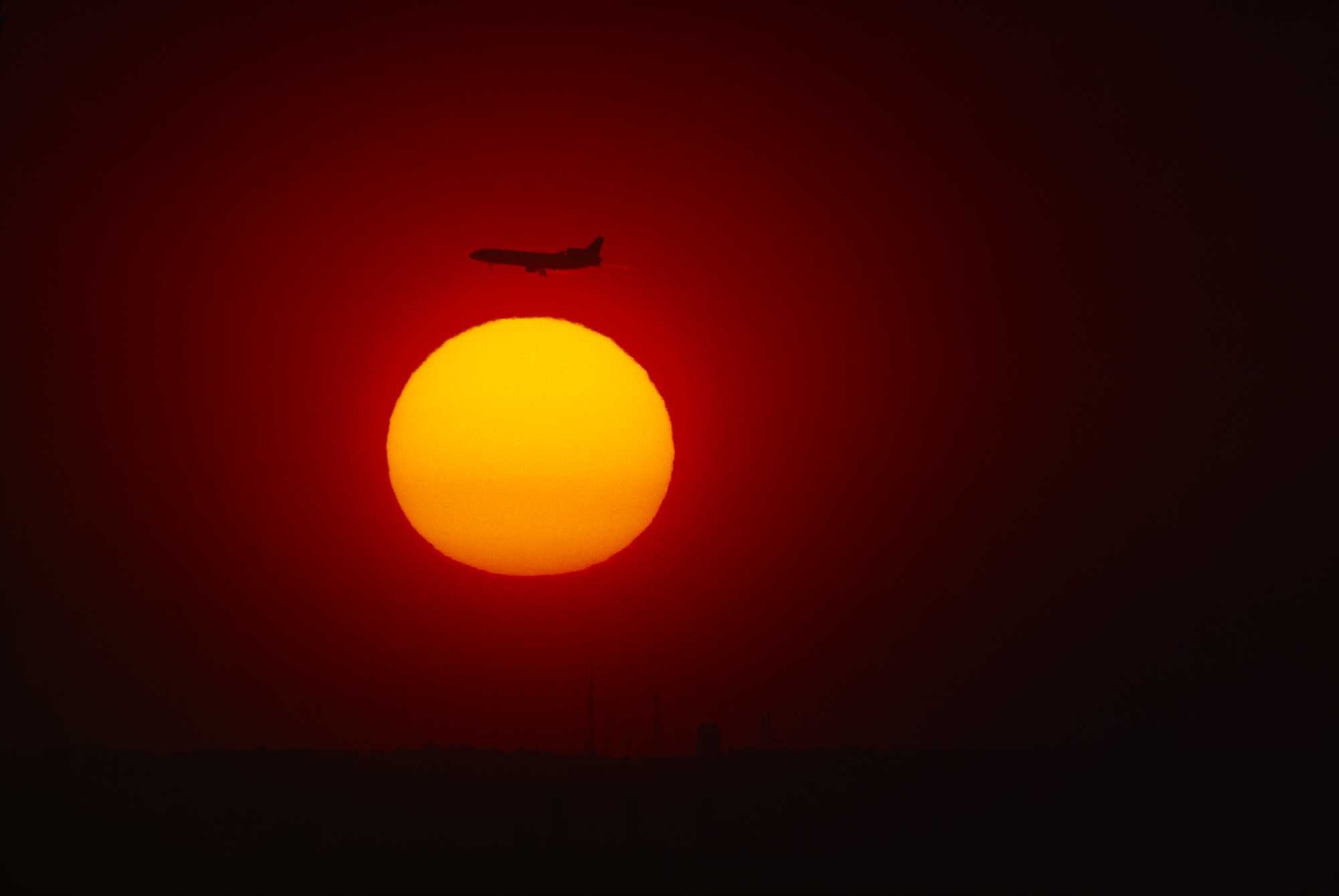 Just last week I wrote about the return of nice weather, and the prospects for a return to summer rituals–barbecues, ball games, airshows, concerts, and trips to the beach. And then, like a flipped switch, the sun kicked in and we zoomed up into the 90's. Summer is definitely here, for a while, and with it comes the big ball of sun, and the heat and sweat of the of next few months.
The heat accompanies our return to something akin to "normal." Though normal as a term is more relative and malleable than ever. Does it really mean the normal we used to have? Or just less time being masked? We'll see how all this goes.
Big sun means a big lens, for sure. This airplane silhouette was shot from the Brooklyn Promenade, but that plane is on a flight path over Newark Airport, which of course is in a different state. A 1000mm lens is the easiest way to get to Newark in rush hour, as it turns out.
Long glass equals big, solid tripod. I shot this forty plus years ago, on Kodachrome, with a NY Daily News thousand mil, on a heavy duty Gitzo tripod. Fast forward, all my cameras and lenses are still bolted to Gitzo supports. Their solidity and adaptability has been a partner for my whole career. And they just keep getting better.
Gone fishing! Big sun, casting off a dock. Have always loved graphics and sun silhouettes. This below, is, most likely, something around 1200mm.
The below is backed off to 300mm.
And the beach! This crowded beach in Lima, Peru a few years back now….tough to say if this will ever be replicated.
The above shot was fun for me to experiment with in Capture One Pro. Still learning the ever-growing capacity of that program, but the dehaze tool snapped this to life. Shot with a 300mm from a paraglider. I was seriously happy to get back on the ground. Easy touchdown on the sand.
More tk…..
Related