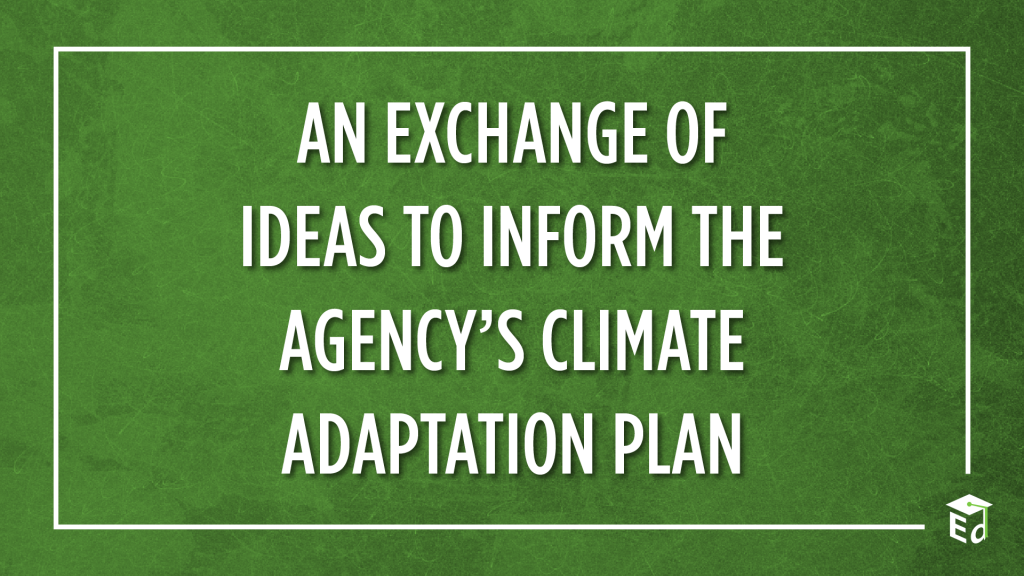 On January 27, 2021, the Biden Administration issued Executive Order (E.O.) 14008, Tackling the Climate Crisis at Home and Abroad.The order revitalizes past Federal efforts to enhance adaptation and bolster resilience by requiring each Federal agency to devise a Climate Adaptation Plan. The plans are a first step in leveraging Federal agencies to demonstrate climate leadership through both policy and example.
Given the opportunity presented by the creation of these Climate Adaptation Plans, the U.S. Department of Education (ED) will host virtual "Listening Sessions" with the public. The aim of these sessions will be to support an exchange of ideas around the opportunities for Federal climate leadership within ED. These sessions will inform the agency's Climate Adaptation Plan and subsequent implementation and explore the connections between climate, the safe reopening of schools, and ongoing efforts to advance educational equity.
These listening sessions will take place around the ten-year anniversary of a successful collaboration in 2011 among key leaders from some 80 national and state-based nonprofit organizations and ED to honor schools for their sustainable facilities, wellness practices, and effective environmental education. The award that evolved from this collaboration, U.S. Department of Education Green Ribbon Schools (ED-GRS), continues to be a powerful contributor to the national green schools movement.  With a new call to action from the Biden Administration, supportive Federal agencies which are engaged in this work, and a history of successful collaboration with nonprofit organizations, ED seeks to solicit input from a diverse set of stakeholders on opportunities for partnership and innovation.
Each listening session will be focused on specific themes that reflect the breadth of the opportunities and challenges related to climate adaptation. Engaging ED political leadership and key stakeholders, the aim of these input sessions will be to discuss opportunities for climate leadership that exist within ED's statutory authority. Sessions are also intended to encourage further multilateral collaboration among the breadth of agencies and organizations with an interest in climate-resilient schools.
The Listening Sessions will be hosted by ED via Microsoft Teams meeting.  Topics and dates are as follows:
All are welcome. It is preferred that attendees register with name, role, and organization to ed.green.ribbon.schools@ed.gov. You may also click on the Teams embedded in each session title to join.
For each session, an ED Administration official will articulate the Agency's rationale for focusing on the theme and identify connections to the Biden Administration priorities such as jobs and equity. ED Administration officials will briefly introduce the Administration's existing work, including other federal agency programs, but the vast majority of each session will be open to participants' input. We are requesting discussion topics of interest and questions be sent by Friday July 30 to ed.green.ribbon.schools@ed.gov. 
For years, ED has benefited from proposals, letters, and requests from an engaged set of stakeholders on matters relating to school sustainability and infrastructure. Please put on your sustainability thinking caps and join us for an unprecedented opportunity to inform Administration officials about some of the most pressing education issues of our time.
Andrea Suarez Falken is Director of U.S. Department of Education Green Ribbon Schools and ED's Facilities, Health, and Environment Liaison, as well as Director of the Recognizing Inspiring School Employees Award.