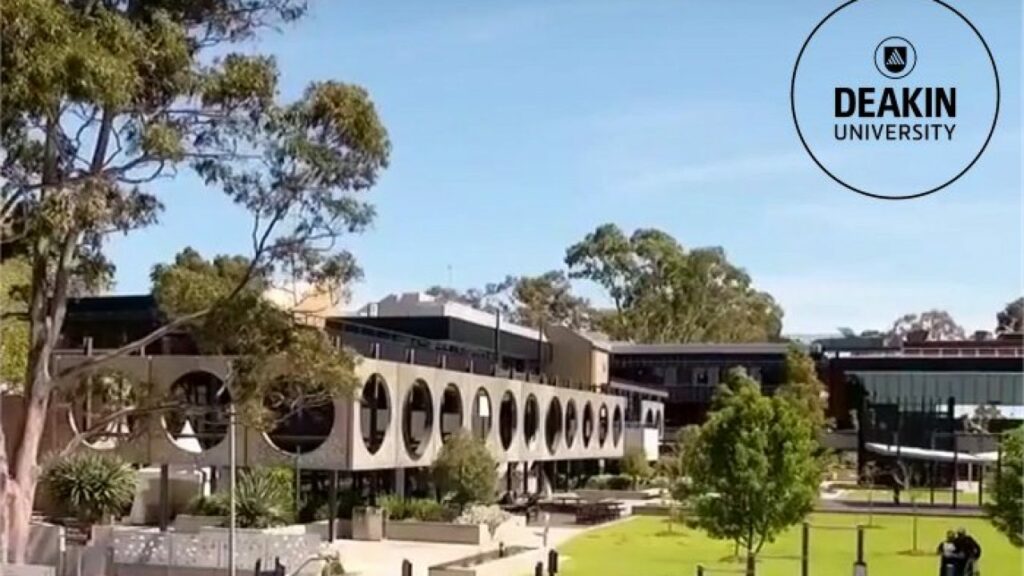 Is there a global & world-class business & management program you know of that can actually enable students to study an industry immersive program, designed in collaboration with the top organisations in the world? Sounds incredible, doesn't it!
But such a degree program is closer than you think and is one that is bound to change student prospects in the 21st century.
About Deakin University
With over 45 years of experience, Deakin is at the top, among Australia's leading tertiary education providers. The university has won numerous awards and is internationally renowned for its research and teaching. 
The university ranks in the top 1% of global universities in the Academic Ranking of World Universities 2020. Deakin boasts of world-class excellence in a broad range of areas with cutting-edge facilities.
Deakin Business School is one of the only business schools worldwide to hold the international AACSB as well as the EQUIS accreditations. 
More than 60,000 students join this university each year. The assurance of quality in education and excellent standards of graduate employability make it a popular choice among students.
Recognitions
Deakin is internationally accredited by EQUIS accreditation which is the most comprehensive institutional accreditation system for business and management schools. 
The EQUIS accreditation ensures rigorous quality control, benchmarking a school against international standards in terms of governance, programs, students, faculty, research, internationalisation, ethics, responsibility and sustainability, as well as engagement with the world of practice. 
Deakin Business School is accredited with the Association to Advance Collegiate School of Business (AACSB). Less than 5% of (the >16,000) business schools worldwide are AACSB accredited and Deakin is a proud recipient of the recognition.
The university leads the way with many achievements to its credit, like:
• Being a pioneer in Australia in Business Analytics
• Being accredited by the Australian Computer Society 
• It is the first university in Australia and among the top 40 universities globally to offer the Masters of Sport Management (SMI, 2020).
• It ranks among the top 1% of universities in the world for Finance as per AWRU, 2020.
• It is ranked at 101-150 among universities in the world for Accounting by QS, 2020.
• It is ranked 20th in the world for its MBA program (QS Distance MBA Rankings, 2020) 
• It features among the top 200 in the world for Business and Management programs in the world (QS, 2020)
About Great Lakes Institute of Management
Great Lakes Institute of Management is a premium business school in India. It was the dream and vision of Padmashree awardee, Dr. Bala V Balachandran, Professor Emeritus at Kellogg School of Management, and was established in 2004. Since then, it has emerged as a top-ranked Business School within a short span of time.
Great Lakes is led by an exceptional faculty and steered by an outstanding advisory council. The growth and popularity of its many programs are buoyed by the international collaborations it boasts of. 
Recognitions
 Great Lakes has been consistently ranked among the best business schools in India, by Outlook, Business Standard, Analytics India, NIRF ranking frameworks. It is also recognised globally by AMBA, SAQS and NBA.
Great Lakes can be called the 'Schools of Many firsts' as its consistent innovation and commitment had led to its being:
• Among the first B-school to introduce a one-year MBA program in India 
• Among the few Indian schools to have a global faculty model
• The youngest Indian school to be globally accredited by AMBA, UK 
• The First B-School to introduce Analytics as an MBA specialization 
• The first B-School to introduce AI, Machine Learning and Blockchain in an MBA
• The first B-School in South Asia to have a LEED Platinum-rated green campus 
• The first B-School to introduce Karma-yoga, an experiential leadership program 

The Vision
The university's vision is to be a world-class Management Institute to develop socially sensitive, business-ready leaders and entrepreneurs with futuristic orientation and commitment towards innovation and excellence through cost-effective programs.
The Mission
The university's mission is to develop future-ready business leaders and entrepreneurs with an analytical mindset, prepared for current and future market needs, through contemporary and high-quality teaching, research and social engagement.

The Pathway Program
Here comes the exciting part! What happens when two world-class universities; Deakin University and Great Lakes Institute of Management come together for a program of excellence? 
Welcome to the Pathway Program brought to you by these two stalwarts in business and management.
 The pathway program is the launch of the two latest high-impact degree programs. 
Bachelor of Business; and
Bachelor of Business Analytics
Both are 3-year undergraduate degree programs with:
World-class curriculum
Project-based learning
Post-Study work opportunities at Australian
Placement support from Deakin University
Scholarships for eligible students
The Best Of Both Worlds
The pathway program is literally, the best of both worlds where the learner gets to experience two world-class institutions. 
Learners do not have to postpone their plans of having a rewarding career in Australia amidst concerns of safety and present uncertain times.
Aspiring students can start right away with their bachelor's degree by pursuing their year 1 at Great Lakes Institute of Management and continue their journey for years 2 and 3 at Deakin University, Australia. 
The program will enable students to get all the benefits of education in Australia, such as post-study work opportunities for 2-3 years, that too at a much affordable cost.
Student Life at Australia
Australia has been a highly popular education destination among students, including Indians in recent years. The country welcomes you to a warm and safe experience of studying and living. 
It is a much sought-after destination for students across the world, because of its high standard of living, great career opportunities, wonderful food, culture and world-class sporting events. 
Program USP's
The pathway program has been designed for the leaders of the next generation with truly path-breaking features and industry inputs.
It has been developed by the universities in collaboration with the biggest names in the industry; that includes IBM, Microsoft, Deloitte, Ernst & Young and PwC. The program aims to develop practical commercial skills to interpret data and information in students, with opportunities of working on real-life projects.
The program will also enable students to get hands-on experience through work-integrated learning, team projects and business internships. Course graduates will also gain a lot from becoming a professional member of the Australian Computer Society (ACS).
Students pursuing this program will have the backing of the various credible rankings and recognition – and professional networks and partnerships that come with it.
Here's a peek at the work-integrated-learning.
Pathway Scholarships
Students enrolling for the pathways programs can benefit from the Deakin, India bursary which will offer scholarships by way of tuition fee waivers of 20% to 25%.
A look at the scholarship structure:
SCHOLARSHIPS/ BURSARIES
BOARD/DEGREE/ LEVEL
ACADEMIC REQUIREMENTS

Deakin India Bursary 20% Tuition Fee Waiver

CBSE / ICSE / State Board

70 to 79.9%

GCSE / A Level

8 to 9.9

IB Diploma

27 to 31.9

Deakin India Merit Scholarship 25% Tuition Fee Waiver

CBSE / ICSE / State Board

80% & above

GCSE / A Level

10 & above

IB Diploma

32 & above
Placements
Deakin is rated highest among the leading Australian universities by COMPARED for student satisfaction and graduate employability.
Know more about it, here.
https://www.deakin.edu.au/about-deakin/news-and-media-releases/news/deakin-ranked-3-for-graduate-employability
Accommodation in Australia
The program is one of the student-friendly ones. So if you have been wondering about accommodation in years 2 and 3 of the program in Australia, then here's a glimpse of the same.
Take a virtual tour of the campus:
 Know more about Deakin University here.
Know more about Great Lakes Institute of Management University here.
A High-Impact Career Path
Empower your students to access a world-class learning experience at an affordable cost. The pandemic is no longer a roadblock to international education as learners can get started with the pathway program right away to realize their dreams of a career in Australia, with a launchpad in India. 
To know more about the programs, explore here.