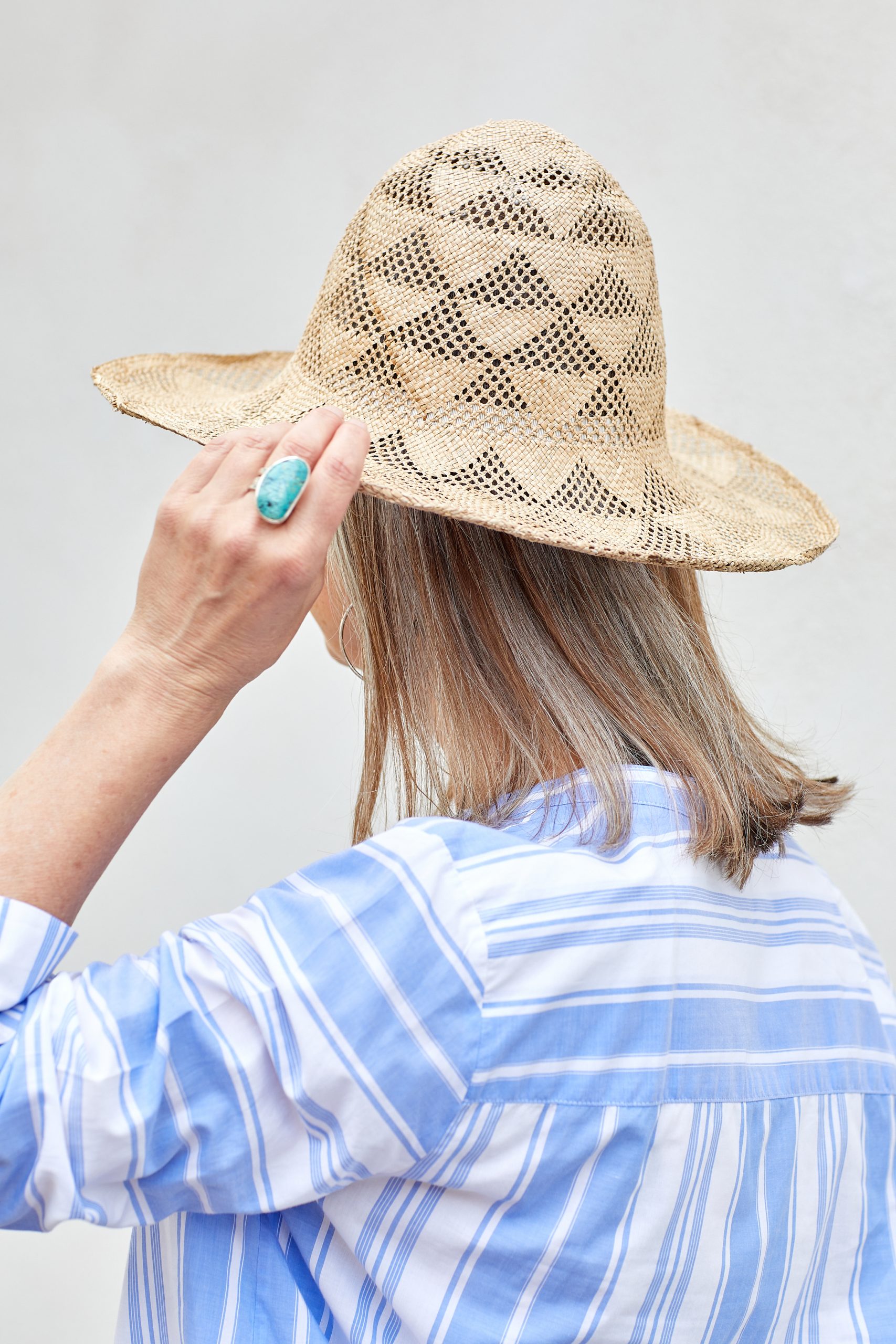 This summer's style challenge: how to wear a straw hat in the UK without looking like Dominic Cummings…Easy when you have a chic vintage-inspired style from Gil Fox. And wouldn't be seen dead walking down a London street with a staff.  Anyhow. banish all thoughts of the Barnard Castle Botherer. Let's talk about lovely Gil Fox, instead. The self-taught milliner started making hats in 1986, ' I wanted something that looked vintage and slightly distressed,' she says over the phone, 'hats that look like they'd had a previous life.' This relaxed approach to style is right up my alley; I'm wearing her vintage straw hat in the photos.
After leaving school, Gil was working as a stage manager at the Royal Court Theatre in London, when one of her colleagues who ran a stall at Camden Market each weekend, encouraged her to go along. ' It was an amazing place for innovation,' she says of Camden in the eighties, 'it was definitely the place to be.  I started making hats, it was weird, it all happened by trial and error really. And then Liberty picked me up there…' When an American company placed an order for £2, 500 worth of hats, Gil realised she had to make a career decision: whether to put herself forward for another theatre job or follow the millinery path. It was then she decided she needed some proper training and found a milliner in Soho who kindly showed her all the basic hat-making skills.
Now aged 61, and after selling in large department stores around the world, Gil prefers to trade on Etsy and through her Instagram feed. Most of Gil's hats are one-offs, hand-shaped using vintage fabrics where possible – my patterned hat is made from a 1970s straw (unworn!). And she still loves the distressed look, ' Hats are not precious, my hats aren't making a big statement,' she adds, 'I've always thought that you should treat them like a pair of jeans. I want them to merge with the wearer's style – take on your shape, take on your look and when they fall apart, that's when we love them the most.'
Check out Gil Fox hats on Etsy HERE. More vintage-inspired, sun hats:
Turn on your JavaScript to view content
STYLE NOTES: I'm wearing an old J.Crew shirt and my Claire Stratton ring.
Please note: affiliate links in this post may generate commission.