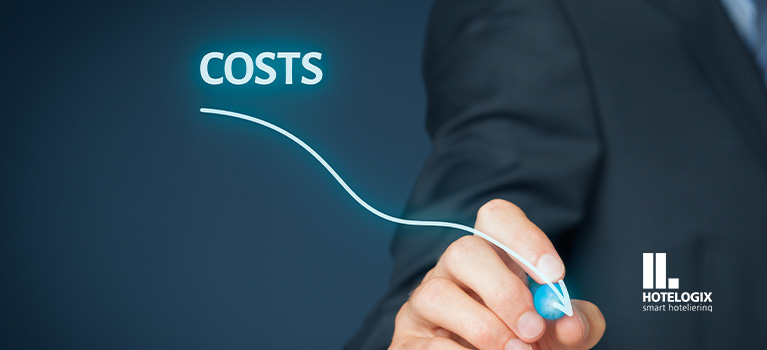 Running a hospitality business is a rewarding experience, but like any business, it comes with certain operational costs. Though unavoidable, these can be incentivised to bring efficiency and long-term returns.
Let us first start by understanding the basic operational costs of running a hotel. These costs are –
Manpower
Maintenance
Utilities
The costs mentioned above can be reduced, controlled and it can be assured that with the right steps taken, and the correct measures followed, you can get the most out of every penny spent! A step in the right direction would be adopting a property management software. In this blog, we would be bringing you up to speed with how a PMS system and other such methods can help you reduce your expenses.
So, let's get started.
MANPOWER:
"Take good care of your employees, and they'll take good care of your customers, and the customers will come back"
– J.Willard Marriott
So, how to get the best return against what you invest in your team? Well….
At the heart of running a hotel, there are people. Your team is undoubtedly the most important cog in the machinery. Their effectiveness, dedication and loyalty translates to the kind of guest experience which you envision to deliver.
When it comes to the matter of manpower, your objective will always be to get the best potential out of your team against their remuneration.
However, this is easier said than done. So, why do hotel owners struggle to get the best efficiency from their staff and how can it be avoided?
Well, there are 3 areas that need to be understood and addressed –
Staff attrition
Training & Onboarding
Cross training
Staff Attrition
Hospitality industry suffers from a staff attrition of 75%. This number is alarming, given the time, effort and money spent on training and onboarding new employees.
Overburdening or overworking of staff is one of the driving factors of attrition in the hotel ecosystem. It is considered to be a common phenomenon which is not "talked-about" and common to many hotels.
This problem is amplified in smaller hotels where fewer staff is expected to shoulder multiple responsibilities. Over a period of time, the employee is exhausted, loses focus and this affects their performance level, and before you know it, they have found another opportunity!
This, coupled with other known devils such as toxic work environments, lack of proper communication, poor training and onboarding, a thankless work environment and many other factors add on to this problem.
But this can be avoided. A few simple steps to do this are –
a) Plan your staff.
Over staffing is to be always avoided, but understaffing is a dangerous territory. Calculate the man-hours required for tasks in every department and hire accordingly.
The objective here to ensure your staff goes home on time and is not overburdened. Losing an employee to competition, especially one who handled multiple responsibilities will ultimately put a strain on you and your existing team.
b) Talk to your team
The importance of 'talking' to your team cannot be overstated. It sounds pretty simple, doesn't it? But when was the last time someone really talked to your team, and more importantly listened to them?
Many big businesses have set up processes to be 'in-the-know' of their employees mental & physical well being. Whether its arranging Town Hall meetings or having a periodic one-on-one with the team, see what the most feasible approach for you is and get started on it!
You will know the pulse of your employees/team and address any red flags before it's too late.
c) Trust Factor
Hospitality or not, it is critical that your team feels you trust them. Micro-managing leads to a sense of distrust amongst the team. Focus on training and correct onboarding and believe in them to do their jobs.
Set up process and S.O.Ps to manage progress and performance, which can be reviewed periodically.
d) Incentivise & Reward
While talking about keeping a check on costs, the topic of incentives and rewards seems out of place, no?
Well its not, because like we said before, the objective here is to derive the best and maximum potential from your team.
Incentive/reward for a job well done, need not be a magnanimous one. It can be simple, but it shows acknowledgement & appreciation for a task well executed.
Even something as simple as a "Employee of the month" with something as small as a 'couple movie ticket' goes a long way!
It also sets in a sense of healthy competition that helps drive team performance!
Training & Onboarding
When it comes to saving costs & controlling staff attrition, training & onboarding of new employees is critical!
Let us consider a simple example to understand its importance –
We talked about the need of planning your staff properly. So, let's say, after due considerations and calculations, you hire, train & onboard a team of five to manage your front desk.
With this staff strength, nobody is overburdened, the team finishes work on time and your department is running smoothly.
Now, three out of those five quit, but luckily you find their replacement soon. But guess what, those three need to be trained, and while they are getting trained –
Your existing staff is overburdened (we already know what overburdening of staff leads to!)
You are incurring a cost of salaries of the three new employees, but they cannot be productive while they are in training (but at the same time, expediting or cutting-short the training will have long term implications on their performance).
Simply put, every minute your new employee spends in training, it's a cost to you, and at the same time, not executing the training properly will cause on-job issues later.
Some tips for an effective training & onboarding are –
Standardise the training process
Create training modules for onboarding a new employee for any department.
Set Timelines – every training module should have a start & end date. This will give you a clear picture on how much time is required for training a new team member.
Training responsibility should be clearly defined if you do not have a dedicated training team.
Once the training ends, follow it up with a certification (a test). This will help you realise the effectiveness of the training.
Establish a buddy/mentor system once the new-joinee start their work.
To help standardise and further expedite the training & onboarding process, Hotelogix's property management system uses its innovative A.C.E i.e., Accelerated Coaching Engine to automate the entire training process. A.C.E lets you perform tasks on the PMS system and guides you through the learning process. It also provides a certification on the system through its scoring mechanism, and lets you know the individual capabilities of your team.
This automation by Hotelogix ensures your expense and time on training is minimised, without compromising on its quality and expected outcome.
Cross Training
Training your staff on multiple areas of work always comes handy in case of emergencies (very much like the example of sudden staff attrition, wherein existing staff might need to shoulder multiple responsibilities for some time).
Further, cross training also improves guest experience.
For example, let's say you are short on servers at your restaurant. A chef who has been trained to engage with guests and take their order, enter the order into the system and execute the billing is a great help!
Despite being short on your waiting staff, your guest/customer did not have to wait for their order to be either taken or delivered.
However, in hotels, cross training is more-effective when done between co-related departments, such as –
Between Front-desk, Bell Desk & Housekeeping
Between Kitchen & F&B service
Hotelogix A.C.E enables you to cross train your employees and helps certify them, thereby making the entire training process expeditious and, not to mention cost effective!
MAINTENANCE:
Breakdowns are regular occurrences of running a hotel, and as your property ages, these breakdowns become more frequent.
A leaking faucet, a faulty AC & any other minor or major damages, if not addressed at the earliest, is a cost to you.
Further, checking-in a guest into a room with such issues critically hampers guest experience, not to mention the possibility of losing a customer and managing bad reviews! Again, this is a cost to your reputation.
Maintenance issues need to be addressed with minimal delays, and here are a few tips to do just that:
Daily Check
Your housekeeping team most definitely cleans the room thoroughly before every check-in. Additionally, the team will be cleaning the rooms daily as well (and in most cases even have a daily turndown service).
The point being, it is the housekeeping team that can identify & escalate maintenance needs before the guest does.
Hotelogix's hotel property management system allows your housekeepers to mark such rooms as "needs maintenance", and this information is updated in Hotelogix's front-desk console in real time, thus ensuring a guest is not inadvertently checked into a room that needs repairs.
Housekeepers can also update the details of the maintenance needed into the Hotelogix housekeeping console, which can be reviewed at any time.
Maintenance module
Whether its the housekeeping or the guest, whenever a maintenance escalation is made, it is imperative that it's assigned to the right team/person and more importantly, the task is tracked to ensure swift completion.
Tracking this manually is a tedious task and should be automated. This is where a maintenance module comes in.
Hotelogix property management system comes with a built-in maintenance module that lets you create, assign & track tasks, which ensures you resolve all maintenance issues as expeditiously as possible.
UTILITIES:
Utilities become a cost-issue when there is wastefulness. There are certain measures that help curb this.
Using Smart Sensors: Installing smart sensors (occupancy sensors) greatly helps reduce cost by saving electricity and water when not in use. This also greatly improves the shelf life of fluorescent lights.
Installing more energy efficient lighting. Compact fluorescent or LEDs are a good option.
The housekeeping team (when servicing a room) should take the responsibility to ensure lights are switched off when not in use, faucets are not running or dripping unnecessarily, TV or other electric outlets that are not needed are turned off.
Heating and cooling: This consumes the most electricity. Ensure that air conditioners and heaters are not running unnecessarily. This needs to be a part of the daily housekeeping check as well.
Educate your guest on energy saving measures. Putting up signs on switchboards, next to the faucets and the water closet will remind your guest to conserve for a better environment.
The trifecta of manpower, maintenance & utilities constitutes the heart of your operational costs. But being prepared and proper planning, along with the right property management system like Hotelogix, will help you be on top of these costs and control them.
​
​

​