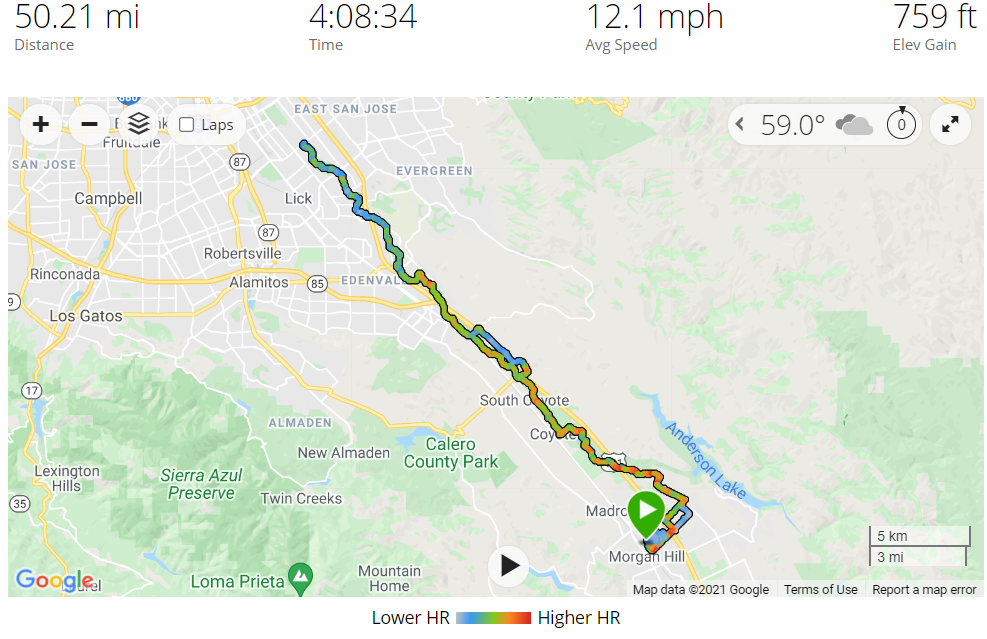 Now that I'm done with my exercise stress test I've decided to focus more on riding. I went out for four hours today, and covered just over 50 miles. The first two hours were standing pedaling, and in the last hour I threw in a bunch of intervals.
My old low-end watch recently died so I treated myself to a Garmin Forerunner. It has the nice feature of providing wrist-based heart rate normally, but if it notices I have my heart rate strap on it pairs with it instead. This was my first serious ride tracking with the new watch. I'm pretty happy with it so far, I like how the display is customizable, so I have time, date, and heart rate on the watch face. You can also customize what appear on the main screen during various activities, so I have speed, elapsed time, distance, and heart rate for bike ride. I don't like to be distracted by tech when exercising, I prefer to peruse the results later. But it is nice to be able to glance at it once in a while, like "that was a tough interval, I wonder what my heart rate got to".
I want to work on my climbing because I'm not strong enough on steep climbs. I was going to do some tough climbing on the "IBM hill" on Bernal road. But I ended up taking the Coyote creek path all the way to its end at Tully road in San Jose, and was behind schedule so I left the hill out. That'll be for next time.
It was a great day for a ride, not too hot.