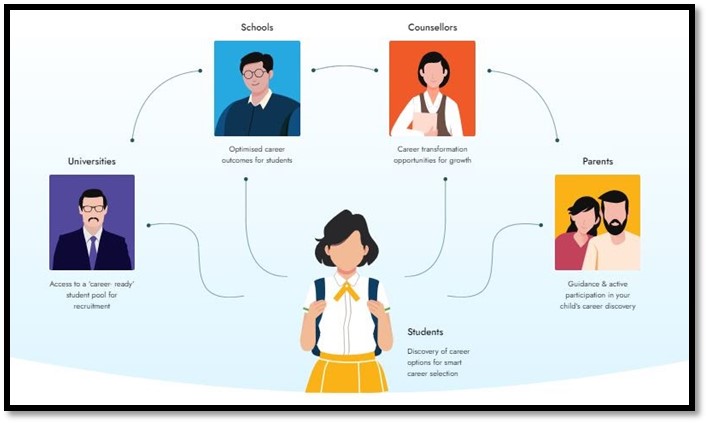 Career Guidance, a phrase comprising 2 simple words, is as layered as a concept can get.
Especially in a country like India – with a population of 1.3 billion people and 10 times the number of opinions!
Ranging from our independence till the early 21st century, the concept of a successful academic career has been based on 2 things.
Marks in exams
Education or Law which then was overtaken by Medicine or Engineering
We couldn't be more literal with the definition.
Additionally, the absence of experts who could guide students created a funnel for students to go through while the parents watched and the society acknowledged or dismissed.
The role of career guidance was primarily missed out upon.
And, to fix this missing centerpiece of the jigsaw puzzle, Univariety was founded in 2015. Today, after having impacted millions of lives, the brand is all set to start a new chapter in the field of career guidance.
The journey so far? What is the new chapter?
Let's find out!
Univariety- The Pioneer In Career Guidance
Since 2015, 7,00,000 students could be pursuing a mainstream career irrespective of their interests and strengths.
Instead, they are pursuing the career choices they have a deep liking for. Furthermore, the subjects they love are their majors.
The icing on the cake, the colleges they dreamt of, are the colleges they are currently studying in or are proud Alumni of.
Today, the country is growing familiar with the diversity in career paths. 10 years ago, what could have been an 'is-that-a -real thing' profession, is a popular choice amongst the Gen-Zs.
The challenge here is multilayered.
For example :
Discussing the possibilities of career choices with the student
Getting the parents on the same bandwidth as the students
Interaction with an expert on the matter
The onset of the career journey
This has precisely been the journey of Univariety since its inception.
The famous saying reads, 'if the cause of your purpose is noble, then the odds work in favor'.
And our case is no different!
In the past years, we have witnessed and adapted to all the new-age developments in the education sector. Acing versatile challenges and building a reputation around them.
Understanding Career Guidance at Univariety
In 2015, with a realization of the importance and need for professional career counselling, Univariety was formed to create a path for students to reach their dream careers.
The motivation being to provide world-class guidance solutions to students, parents, schools, universities, and counsellors and foster continuous learning within our ecosystem.
Today, Univariety stands as India's leading career guidance platform for progressive schools to develop their own assets to set up a world-class career guidance system.
Our values throughout the years:
1. Respect every journey: "Every journey is unique. We care for, and respect, every individual and institution we associate with."
2. Whatever it takes: "We do whatever it takes to help students and their parents make the best choices. We back our recommendations with data and human expertise to help reassure decision-makers and build trust."
3. In it, together: "We exist for, with, and because of our ecosystem. With every initiative, we help strengthen and align every stakeholder in our ecosystem."
4. Technology with a human face: "We leverage technology responsibly, keeping stakeholder interests, privacy, and data security ahead, at all times."
5. Innovate every day: "We are constantly learning, striving, collaborating and innovating, to keep improving stakeholder outcomes and engagement experience."
Univariety- The New Chapter
In becoming India's largest career guidance platform, we wouldn't have been quite there without the involvement of our stakeholders.
While parents, schools, and universities play a crucial role in reaching out to students, our network of counsellors and Alumni plays a pivotal role in guiding the students.
Quite understandably, our entire career guidance module is built for and around our students.
To date, our association with our stakeholders has reached the following stats.
A relationship thrives when the involved parties are mutually benefiting. There's no going around on this very fact.
Over the years, in our endeavor to help students discover their dream careers and eventually pursue them, we have served 435 + schools and 200+ universities.
The students graduating today are purpose-driven and have fixed ambitions that they set for themselves. The presence of essential real-life skills to help students in their pursuit is something our programs and products ensure.
As wholesome as education can get. ?
A feat only made possible with the involvement of our prestigious network of counsellors and alumni.
Today, we are all set to put our best foot forward.
A devised strategy to take our stakeholders into the fold and write the new age of career guidance in the country.
Summing it up, with all the experience from the past and the newly-planned prospects of the future, we, along with our stakeholders, are stronger and wiser to help students pursue their dreams.

Univariety 2021- What to Expect?
With great power comes great responsibilities.
And we second that.
Our new face as a brand is devised to feature our stakeholders at the forefront and efficiently infuse AI with human expertise.
With technology, we combine past students' real college admission experience with trained career counsellors' expertise.
All this while ensuring that students, parents, schools, counsellors, and universities are aligned in their goals.
Whether you're a student, parent, or any of our other stakeholders, you'll be able to witness the following changes as a user:
Student
Inclusivity of more exclusive and personalized programs
An enriched Alumni network to connect to
An increased number of free resources to develop an experience of our services as a user
Wish to Explore More? Take A Tour
Parent
Exploring the new-age research and knowledge tools
A more versatile involvement in the programs along with your child
The scope of career-related differences completely eradicated
Expert counsellors to reach and interact with regarding career choices and related progress
Wish to Explore More? Take A Tour
Schools
A holistic career guidance system with a world-class set up at your school premises
A new age Alumni engagement and management platform
Training and certification programs to upscale your faculty and staff with 21st-century skills
Wish to Explore More? Take A Tour
Counsellors
A comprehensive guide created by Univariety in collaboration with UCLA Extension for career counsellors covering techniques, trends, and best practices
Guidance and training to start your own counselling business.
Access to a range of exclusive products to better guide students and parents in your network
Wish to Explore More? Take A Tour
Universities
Improved recruitment & interaction with students, parents, and high-school counsellors from Univariety's network with UniEngage student and school connect, and other newly added programs
Option to create and manage your own microsite to engage and attract aspiring students
Connect with our vast network of high-school counsellors and certified Global Career Counsellors spread across India
Wish to Explore More? Take A Tour
Well, there it is.
With an experience enriched outlook towards the future and new-age technology backed by human expertise, we are all set to start a new chapter on career guidance in the country.
Delivering on our promises of :
The most comprehensive, collaborative & responsive career guidance ecosystem
The most personalized career discovery, selection, and outcome experience, driven by AI & human expertise
The best fulfilling and deep engagement experience with sustained value creation for all stakeholders
Take A Tour To Explore More About Us