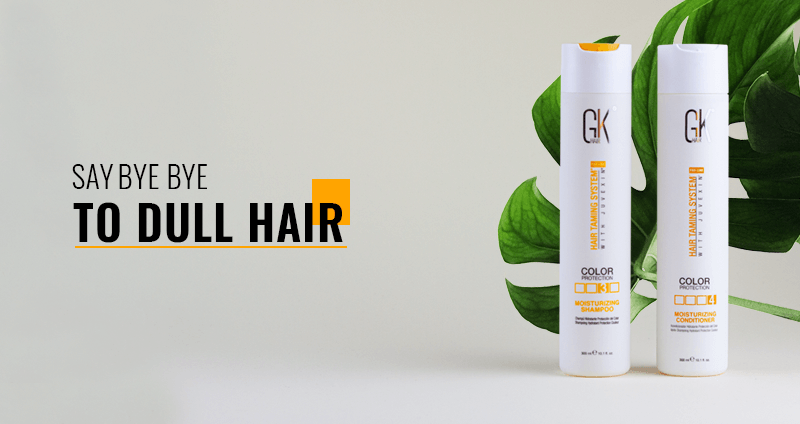 Who doesn't want dreamy hair? We all do! But as seasons change or we get busier in our lives, our hair becomes either dull and lifeless or neglected by us. To change its texture, we attempt many shortcuts such as natural remedies, unnatural processes like dye and also applying heat on almost a daily basis, which in turn cause more damage to our hair. Well, there's no longer a need to worry about keeping your hair luscious, thick and healthy because GK Hair brings you premium product ranges, that can help you get the hair you've always wanted!
To get the perfect hair, consistency in following the right hair care routine is very important. You can either pick the GK Hair Moisturizing Duo or the Balancing Duo to give your hair just the treatment it deserves.
Dull & Dry Hair No More
Dry strands are everyone's worst nightmare! If you feel like you have dull and dry hair all you need to do is use our Moisturizing Duo to add some life to them. This contains the GK Hair Moisturizing Shampoo & Conditioner.
Both these products are composed of Natural Seed Oils, and Plant and Grain extracts serving to gently cleanse dry, damaged hair by strengthening each hair strand with natural proteins while also hydrating and soothing the hair. These products also contain Juvexin, a keratin anti-aging agent which helps restore hair to its natural state.
If you constantly color your hair and frequently resort to heat styling, you know that these habits can cause hair to become drier over time. This may lead to weak strands and frequent hair breakage, causing long-term damage to the roots. 
In such situations, there is no doubt that GK Hair's Moisturizing Duo will leave your hair nourished, conditioned and hydrated. For those with curly hair, it will help keep the curls fresh throughout the day while for those with straight hair, it will certainly add an extra volume preventing your hair from looking flat all the time!
However, while most of you may think that a moisturizing shampoo and conditioner is only for those with dry hair, here's where you are wrong! If you have oily hair, you would want a hair care routine that ensures that the natural hair oils being produced stay within the scalp and the products being used do not weigh your hair down. Those with oily hair struggle to create volume and to get rid of the 'greasy look'. Here's where our Moisturizing Duo will come to your rescue!
Cleanse Your Scalp
The importance of using a hair detoxifying shampoo or a scalp cleanser has not been talked about enough in the hair care world. Whether you have a normal office job or are an athlete, whether you are a stay at home mom or a regular teenager going about life, a deep hair cleanse is necessary for all! As we go about our everyday tasks, our scalp gathers germs from sweat and other pollutants which a regular shampoo may not be able to get rid of. Even hair sprays, hair waxes and other products can cause hair gunk which may then build up within the scalp.
If you believe that your hair needs a deep cleanse, you must get your hands on our Balancing Duo, which consists of the Balancing Shampoo and Conditioner. The GKhair Balancing Shampoo & Conditioner offer in-depth cleansing without causing irritations, leaving hair healthy, shiny and smooth. Just like the Moisturizing Duo, they also contain Juvexin, a protein that helps restore hair to its original texture.
So, when it comes to the benefits of the Balancing Duo, there are numerous ones besides it keeping your hair super clean. Our balancing shampoo and conditioner will keep your hair free of any sort of build up, leaving it shiny and frizz-free. It is great for athletes like swimmers or boxers or even fitness enthusiasts who have exposure to chlorine like chemicals and sweat. This Duo will ensure that your hair's natural health is restored leaving it shinier than ever before!
On the other hand, there's a common misconception that balancing and clarifying shampoos strip down the hair's moisture. However, the right quality products, paired with serums and other hair care products will never strip down your hair's moisture. Just like we must maintain a balance when it comes to using skincare products, we must do the same for our scalp health. 
At GK Hair, we believe in taking care of your hair health, providing you with a simple hair care routine that is easy to follow even if you're busy. To achieve the hair you've always dreamt of, you can pick your favourite Duo from those mentioned above. When used consistently, these products will surely give you lustrous locks that you've always wanted! Remember, all our products are free of sulfates, parabens, gluten, phthalates, DEA or TEA, making them extremely safe to use on your scalp!