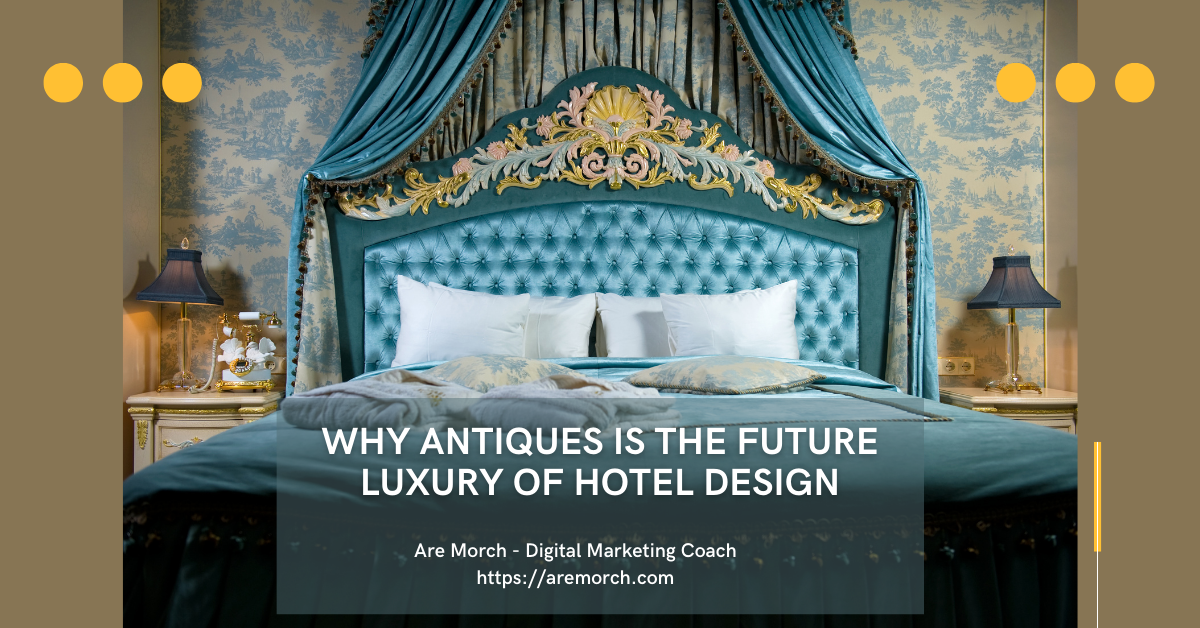 Capture some innovative antique trends for the future of hotel design.
In the hospitality industry (as in life in general) first impressions matter. You want guests to enter your hotel and be dazzled by the luxury and style of the interior but you also want them to feel at home far away from their home.
Minimalist designs with sleek lines that have relatively dominated interior design until now fail to provide that comfort and unique experience like antiques do. For a while now, designing with antiques has made a majestic comeback and is not planning to go anywhere soon. 
In fact, we think it's the future luxury of hotel design. How so? Well, people don't choose hotels merely for sleep. They come for an experience, for something out of the ordinary, for indulging in luxury for a moment, and for comfort, especially now in the wake of COVID-19.
Blending the old, antique designs with new trends provides a rather unique experience and shows just how much (care, time, and funds) you invested into achieving that. Nothing tells a story like a 100-year-old piece of furniture from past, glorious times. 
In this post, we dive a bit deeper into decorating with antiques and why we think it has great potential.
Antique or Vintage?
image source
Often, there seems to be confusion between the two terms: antique and vintage. The differences might be grand or minor, depending on how much of an antique connoisseur you are. 
Generally, an item is considered to be antique if it is at least 100 years old. Some antique dealers would claim it needs to be at least150 years old to be claimed as an antique. This can be a rather subjective classification since some stores sell items 50 years and older as antiques. With that said, antique pieces can be handmade or machine-made, depending on the age limit you're willing to accept.
On the other hand, an item is vintage if it is at least 20 years old. Others label an item "vintage" if it is at least 40 years old. 
All in all, the difference is clear. Antique items are much, much older and therefore, much more difficult to find these days while vintage items are more available. 
Antiques are Rare, Therefore Valuable 
image source
In the decades to come, the search for antiques will become even harder. Antique, handmade pieces of furniture from the Louis XIV or Queen Anne era don't just pop around the corner. The scarcity of antique items is exactly what makes them so precious. 
Being so old, antique pieces of furniture tell a story of past times, times people often long for (at least bits of it) and seek comfort in admiring these pieces, imagining what kind of extraordinary tales would be heard if these items could speak. Designing with antiques is a painstaking, meticulous process as the pieces are usually collected over a lengthy period of time. Pairing the pieces with contemporary designs or various other styles takes a critical eye too. 
This is the luxury of the future we're discussing here. Providing your guests with a unique ambiance knowing just what it takes to achieve that is what decides the value of the overall experience. You are setting a tone and will, therefore, attract clients and guests who appreciate such effort and come precisely for the experience you offer. When booking your hotel, they will do so because they expect the type of journey they believe you can provide. 
Of course, new furniture can be made to resemble antique or vintage as well. Custom-made furniture that is brand new can be made to look old for this purpose. 
Mix Modern with Antique
image source
In interior design, balance is crucial. You want proportion rather than perfection. You want texture but also elegance and style. To achieve this, you can mix items of various styles and create a unique atmosphere specific to your hotel only. This is the beauty of mixing styles, there are no limits as to what you can achieve.
Antique items are great for mixing with modern, contemporary pieces as they add depth and value but don't reflect a stuffy, old room. A few antique details in an otherwise modern, or contemporary interior will create contrast and add character to the room.
An antique mirror with a golden frame can fit perfectly into a modern-style room. Similarly, modern chairs paired with old, rustic tables bring about a certain charm that is undeniable. 
Pick the Right Items
image source
Mixing the old with the new can bring stunning results in interior design if done right. However, you can't exactly just mix and match whatever first comes to mind as it might create the opposite of what you want to achieve.
Overstuffing with antiques can result in messy confusion rather than elegance and individuality. This is why it is important to have a vision of what you want to achieve and choose items that fit into this vision.  For example, an antique wooden table or nightstand paired with a contemporary-style lamp can do wonders for a room. Pick pieces that will add an accent to the interior but without overdoing it. 
When combining pieces of furniture, it is important to pick quality items if you want to accentuate the luxury and style of your hotel. This goes for new furniture as well. Wood is known to be extremely durable and can be very versatile. For example, pairing a Jack Daniels barrel table with an antique stool can be a great choice. 
To ensure you always pick the right items, create a theme and stick to it. It takes a critical eye but the results can be mesmerizing and will surely pay off in the years to come.
Related article: 6 Great Software To Help You Redesign Your Hotel
We are in this together!
I need to let you all know that we are in on this together.  If you need to vent, talk, cry, or just have some to talk with, I am here listening. Since I am working part-time at the local Kroger, I will best work it out around my schedule to the best of my ability.
But you can reach me here:
Email: hotelblogger@aremorch.com
Also, join us at our Facebook Group – Hotel Social Media Community
We will get through this unprecedented event together! #hotelstrong #hospitalitystrong
For any specific information on COVID-19, I recommend go to CDC, WHO, AHLA, AAHOA, and HSMAI. Also, follow information from your local authorities.
NOTE
We are starting to reopen some hotels again (Yay!!!). Make sure you follow their guidelines and say THANK YOU to those that now show a unique spirit to serve, and helps us all get through this!! #hotelstrong #hospitalitystrong
About Are Morch
Hi, I am Are Morch. Your Digital Marketing Coach and Customer Experience Expert helping hotels create unique and unexpected experiences by freeing up resources to focus on new ideas through value innovation and a growth mindset.
Get more from Are on Facebook | Twitter | LinkedIn | Pinterest | Instagram| Podcast