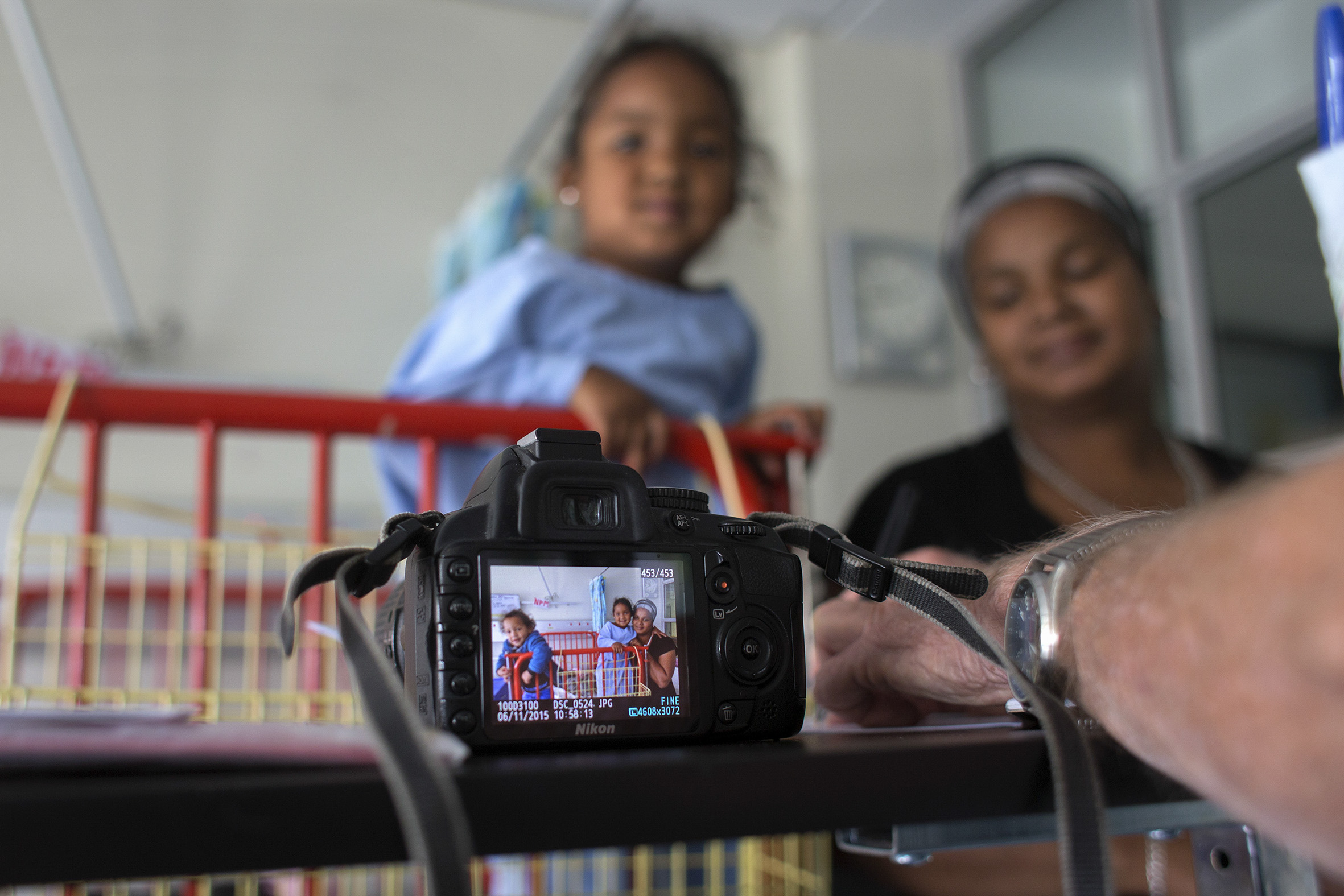 Since September 2009, Retired Royal Air Force pilot and photography enthusiast Wouter van Warmelo has spent every Friday capturing images of the young patients at the Red Cross War Memorial Children's Hospital. His photographic practice has become a vital cornerstone of the family support programme at the hospital, providing the patients' families with invaluable keepsakes and preserving some of their most important memories.
In connection with our focus on Youth Day, we reached out to Wouter van Warmelo to discuss his journey with this initiative and how it has altered his relationship to the medium of photography.
Photos by Jennifer Bruce/CSR Newsroom, originally published in this article by Humans of SA.
What motivated you to start this initiative?
I was asked by the Red Cross War Memorial Hospital Trust through the University of the Third Age, Cape Town, because of my interest in photography. This project really piqued my interest as a long-retired person, so I went to Mike Ormrod and asked if Orms would sponsor this initiative. He agreed immediately… on a trial of six months. This was extended a few times when he saw the value for the children and families until he said that I could just carry on. I eventually expanded the venture from one ward to all ten wards. The project itself, and the reaction to it motivated me more and more. Eventually, at the start of the original 2020 lockdown, I had photographed over 20 000 children.
What is the significance of these images for the families of your subjects?
Apart from having some "nice to have" photos of their stay in the hospital, in some cases, these photos are all they have left to remind the parents of their children who had meanwhile passed away. Incidentally, on two occasions I was asked to photograph a child who had already just passed away. But, also, significantly in many cases they have helped in the healing process. For example, there were occasions when the child was critically ill and not being given much chance to survive. Yet, the child pulled through and was eventually released back to the family. The photographs then comprised a history of a difficult time which they have survived with gratitude.
What is the greatest lesson you have learnt through your involvement in this initiative?
Compassion: not only for the patients and their families but also for all the wonderful staff at the hospital.
How has been involved in this initiative impacted your relationship to photography?
Again, it taught me a lot about compassion in this world and improved my way of seeing the subjects of my photography, whether it's about people, or anything else. And it's also increased my photographic skills!
How has Orms been involved in this initiative?
Orms has been involved right from the start in 2009 with great understanding and generosity. Printing over 40 000 photos (on average 2 pictures for each child – one with the child alone and one with the parent) in the 10.5 years since I started has been a most generous and heart-warming gesture from Orms. And the cooperation between the staff and me has been outstanding. So, a huge "THANK YOU" to all of you.