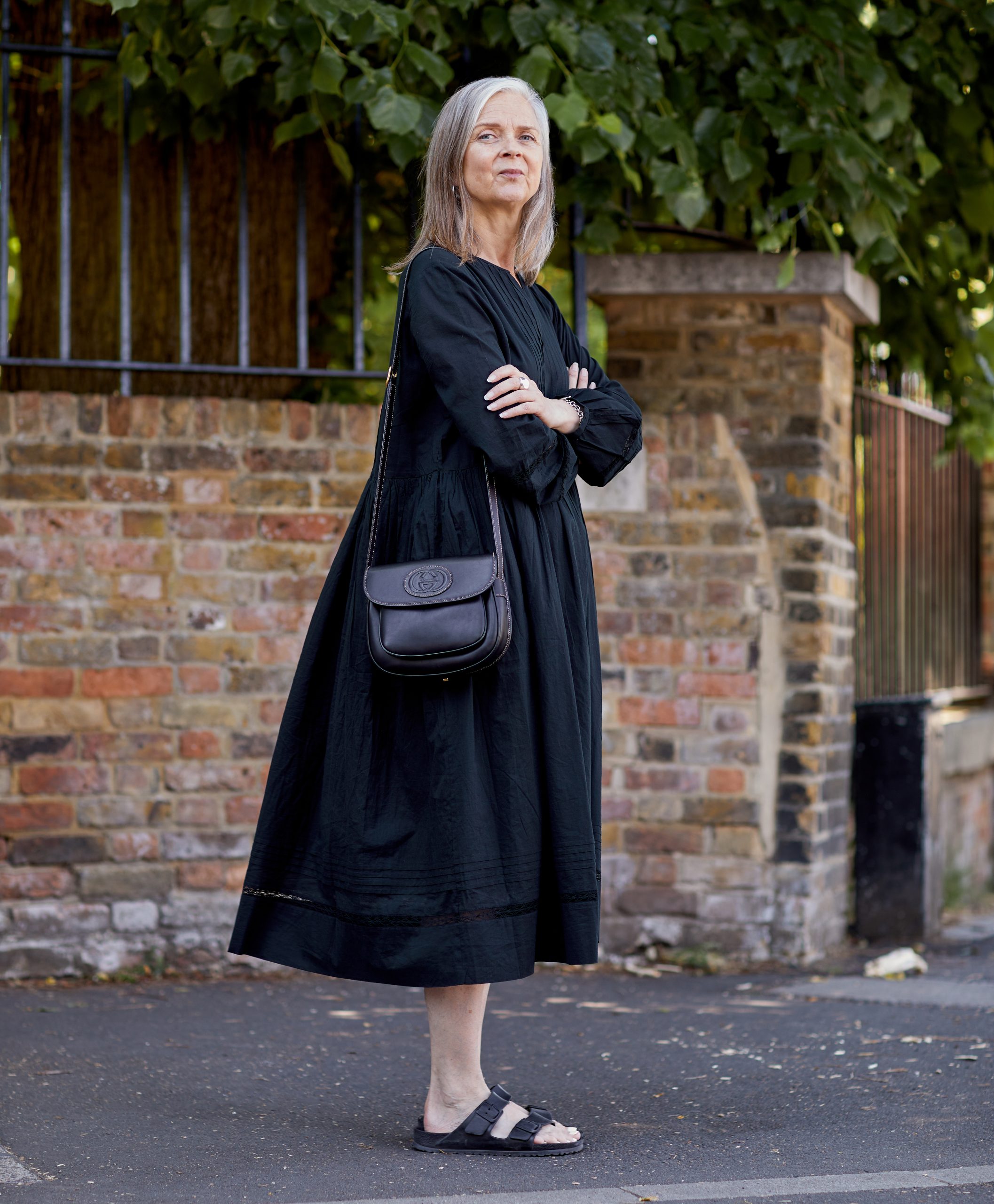 One of the most stylish women I've seen all summer, stopped me at a gallery to say she'd just read That's Not My Age. After 13 years plugging away at this site, I'm still chuffed to bits to meet loyal followers  – and if I say so myself, they're a friendly, smart and super-chic bunch. On this particular day, we were both wearing black summer dresses. Snap! We laughed. Hers was the washed linen tunic dress from Muji (no longer available in black) that she'd bought after a recommendation on That's Not My Age (Giving myself a pat on the back), accessorised with a statement necklace, simple sandals and an elegant grey bob. Less is more, people. Less is more. Meanwhile, I was wafting around in this organic cotton voile number from Skall Studio via the fabulous, sustainable fashion website Gather & See. (It's sold out in black but there is limited availability in white).
There's a myth that we shouldn't wear black clothes in summer, that white clothes reflect the heat and black clothes make you hotter. But scientific research from 1980 (and a quick experiment in 2019) shows that the amount of heat the skin is exposed to, from the clothes, is the same regardless. To be honest, I don't have many white clothes  – two pairs of jeans and one shirt – I live in London, it's filthy. And who wants to look like Randall & Hopkirk Deceased? Anyhow. The 1980 survey 'Why do Bedouins wear black robes in hot deserts?' conducted by the journal Nature, found that while black clothes did absorb more Sinai heat, this was lost before it reached the skin. Yes, you can wear black on a hot day.
The key to keeping cool is to opt for looser shapes in natural fabrics. No-one wants tight armholes in a heatwave. From a cotton buffet dress to a knee-length, linen shift ( oh, I wish I'd asked for a photo in the gallery); a simple, everyday t-shirt-style (Cos and Eileen Fisher are great for these) to a go-everywhere shirtdress. The carefree rather than clingy silhouette provides plenty of waft factor.
STYLE NOTES: The dress in the first photo was a generous gift from Gather & See. The second is my own DKNY bought approximately four-years-ago.  And here's an assortment of cool black dresses:
Turn on your JavaScript to view content
Please note: affiliate links in this post may generate commission.